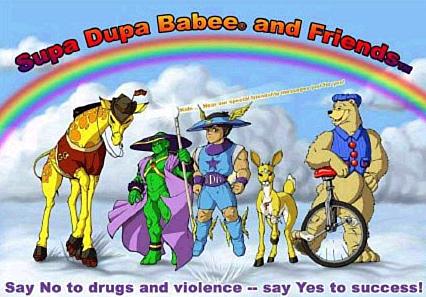 Let your children play along with Supa Dupa Babee!
Now your children can "play along" with Supa Dupa Babee and friends to help rid the world of drugs and violence. These high-quality, durable action figures excite children's imaginations while teaching them Supa Dupa Babee's important lessons.
To order call Business: (706)453-4355.
Each action figure says three different phrases when you move its arm or leg. Batteries not needed!
(Above prices do NOT include 6% Michigan Sales tax, and Shipping & Handling charges.)
These quality action figures have been manufactured by Ricowell Limited. Stay tuned for more exciting products to come!